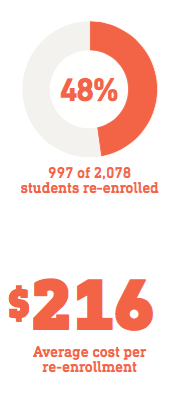 Re-engage, Re-enroll, and Prepare Former Students to Finish Strong
Re-enrolling former students is more cost effective than recruiting new ones and it prevents the negative consequences faced by students who have some credits but no degree. Re-enrollment campaigns also generate actionable data and insights to help you understand the root causes of attrition that can inform resource allocation to improve outcomes.
InsideTrack Coaches re-engage students who have been away from your institution for at least one academic term and help them develop a plan to complete their education. Coaches conduct proactive outreach to reconnect students to their purpose for pursuing a degree, remind them of the value of your institution, define and execute a plan for returning, and develop the skills needed to persist and graduate.
Included below are some of the results
we have seen through our re-enrollment and re-engagement work with one of our institutional partners. Also, be sure to check out the
R
e-Enrollment Outreach for Completion
webinar we hosted for more insight from the coaches themselves.